This is a Sponsored post written by me on behalf of Avocados from Mexico for SocialSpark. All opinions are 100% mine.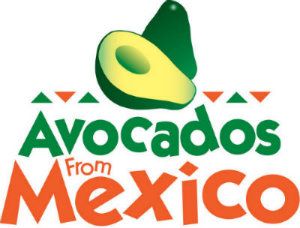 Its true.  I really do.  [I even have an avocado board on Pinterest.]  There are so many things that you can do with avocados.  They are such a versatile fruit.  [Or are they a vegetable?  I always get confused!]  You can use them in breakfast, lunch and dinner meals.  You can use them to grow another avocado.  And you can use them to send birthday greetings to one of your friends.
I used the Share the Avocado Love Facebook app to send my friend Candy a little birthday love.  Avocado style.  [Because what says 'Happy Birthday' more then a yummy green fruit?]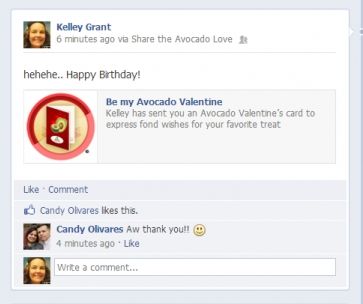 I used the app to send over a birthday greeting.  You can also find avocado ringtones, wallpaper, badges and even shop for goods at the Avocados from Mexico Cafe Press store.  I had Candy tell me her favorite thing in the store, and then I bought it for her.  And had it shipped to her house.  [Thats like 10 friend points right there.]
She picked this super cute skull skirt with avocados for eyes and loves it!  I think its awesome too, and love the avocado eyes.  Avocados from Mexico are not only perfect for eating, they also make great gifts!  Really, they do.  Ask Candy.